50's Television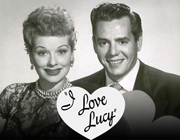 My husband and I are one of four couples who host dinner parties. To make the evening a little more interesting we chose the theme of 50's television for the latest one that we hosted.

Instead of calling to invite our friends, as I usually did, I sent out cards with a picture from the TV show "I Love Lucy" on the cover. Inside was a little note asking everyone to come as their favourite character from a 1950s television show. Michael and I were going to be Lucy and Ricky Ricardo.

Michael and I set the dining room table with a white, lace table cloth with our best plates, glasses and silverware. It looked like the perfect 50's dinner table. I even put a little basket of fruit and dried flowers on the table for a centrepiece.

We bought picture frames and left the sample pictures in them and hung them on the walls. The sample pictures were perfect because they looked so cheesy and artificial.

For dinner, I cooked a leg of lamb. I served peas, carrots, Yorkshire pudding and mashed potatoes with gravy for side dishes.

Michael set our camera up on a tripod and rented a big standee cutout of an old fashioned television. The screen was cut out so it would frame anyone holding it and standing behind the cutout . He took a practice black and white picture of me, wearing my Lucy red wig and lipstick, button-up white shirt and Capri trousers.

Two by two, the couples started to arrive. There was Superman and Lois Lane, Frankie and Annette complete with mouse ears, the Lone Ranger and Tonto and Ralph and Alice. Everyone's costumes looked great. Michael took their pictures in the standee and then Tonto took a picture of Michael and me. We had them developed, framed and sent them to each couple as thank you gifts.

A CD of early television show theme songs played in the background as we ate dinner and chatted. Afterwards, we played a game of Television Trivial Pursuit. It was so much fun as almost every question sparked a conversation about the show or reminded us of when we were little kids. I served apple pie and coffee for dessert.

Around 11:00, we turned on the classic television channel and watched "I Love Lucy", "Dragnet", "Superman" and "The Lone Ranger". Everyone's eyes were glued to the TV, just like when we were kids! I We kept watching until 2:00 a.m. .

When we realised what time it was, our guests said good-bye and headed home. We left the dishes in the sink and went to bed. When I got up the next day, I realised how much it looked like my grandmother's dining room. I quickly put everything back to the way it was and immediately felt younger. The evening was definitely a memorable one.


Related Categories
Back