Car Boot Sale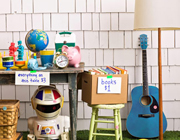 Each year, our company organises events to raise money for local charities. This year, the event was a car boot sale. 25 % of the proceeds of any sales would be given to our chosen charity.

An e-mail memo was sent to all employees asking them to go look through their attics, cabinets and drawers for any unneeded things and maybe a few antiques and collectables. The sale would be held on Saturday in the company car park next to the city park.

I had as much fun going through my house as I did at the actual event. David and I searched every nook and cranny of my house, discovering little trinkets and even things that I thought I had gotten rid of years ago. I also found some stuff I thought I had lost. I put it aside and David and I put the rest into boxes. I guessed we had enough items to fill the boot of the car and a few tables. My husband and I spent an entire Sunday afternoon sticking price tags on everything.

On the morning of the sale David and I arrived early to set up our tables in front of the car. A medium sized marquee had been erected with tea, coffee and other refreshments. Some of the women had brought home baked cakes and pastries and other goodies for sale.

The sale started an hour later. I saw some people I recognised from work looking over the items on our table and some passersby who saw the signs and the marquee and stopped by for a look. My husband said he also saw an advertisement for the sale in the Sunday paper the previous week.

I took a walk during my break and I was amazed by what our company had done! The event was less like a car boot sale and more like an English village fete. Some food carts had been set up at the far side of the marquee. There were hot dogs, hamburgers, sandwiches, drinks and ice cream for sale and a popcorn machine.

Various other tables had been set up selling homemade preserves, produce and plants. I saw a small black tent with a Fortune Teller sign outside, a bouncy castle for the kids, jugglers, a tombola and raffle, and a young women doing henna tattoos and body art.

A country bluegrass band set up in the afternoon and played for a couple of hours. Some people started dancing and had a great time. We were blessed with good weather and everyone really got into the country fete atmosphere.

A clown was entertaining the children at the sale by performing magic tricks and making balloon animals. She was very good at it and even taught the kids how to make a balloon poodle. I think they enjoyed that a lot more than just watching her make them. A couple of photographers wandered the grounds taking pictures of the kids, the band and the tables full of stuff.

I spent a few quid buying some trinkets I found on other tables. David warned me to stop before we came home with as much stuff as we brought. At the end of the day, people from Human Resources Department came to every table to get a tally of the day's sales. Even with the split, 250 participating employees raised a significant amount of money for our chosen local charity.

The evening closed with a dramatic firework display. On the ground fire eaters and hula hoop spinners wowed us with their skills. It was a memorable day and gave us plenty to talk about at work for the next few weeks.





Related Categories
Back