Games - Games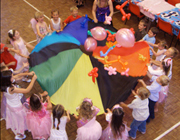 Any occasion idea is to remember, "The Good Old Days"
Event Types
Adults, Kids, Corporate Event, Dinner Party
Age Groups
Adults, Kids, Corporate Event, Dinner Party
Setup
Various areas & tables set up for games.
Decor
Station should be setup all around the room for each different game.
Dress code
Guest may choose to wear comfortable clothes from another generation.
Music
No Music
Food/Drinks
Finger Food; sandwiches, chips, fruit, Ice cream, cake, soft drinks, wine for adults.
Tips
Teen/Adult games: Spin, the bottle, pantomime (teams), Scavenger Hunt. Cards: Gin Rummy, Dbl. solitaire, hearts, strip poker. Board Games: Wee Gee board, Scrabble, Monopoly, Murder Mystery Clue, etc. Children's games: Blind Man's, Bluff Dodge Ball, Pin the tail on the Donkey, "it", Jump Rope, Sack races, Hula Hoop, Skating ramp. Back yard or park. sign up for tournaments. Winner recorded gets prizes set time limits on certain games (blow a whistle?). Need adult judges on children's competition. Give winners banner "I won at ____"
Related Categories
Back