In the Clouds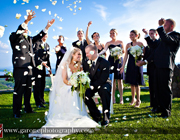 My friends' wedding was not only beautiful, but had an original in theme. It was called "Union in the Clouds". They decided to go all out and hire an entertainment agency that helped them book all the music for the event. A wedding coordinator helped them make their wedding an extraordinary experience that I'm glad I didn't miss.

I received an invitation, a month before the wedding. The invitation was printed on a card depicting a blue sky littered with fluffy white clouds. Inside was all the details of ceremony location, date and time. I noticed the address was for a studio and the building was numbered--were they getting married on a sound stage? Directions and a little map were enclosed. Below the directions was written, "Guests should wear something comfortable, rather than fancy." I thought about just coming in my pajamas to see what they would say, but decided that it would be better to wear a loose dress.

When I arrived at the studio gate, the guard checked my name off on his list and directed me to the car park. Though there were many sound stages, it wasn't hard to find the right one because there was a huge banner over the doorway with, "Union in the Clouds" printed in white letters on a sky blue background.

I mingled, chatting with the other forty or so guests as we listened to the band playing songs from the 60's and 70's. We all marvelled at the special effects transforming the sound stage from a huge, dull, black walled room to a sky littered with clouds. Backdrops covered the walls floor and ceiling. The ceiling sky was a deep blue fading toward the edges to a lighter blue, blending with the colour of the backdrops on the walls. Piles of cotton batting were piled up looking like formations of clouds.

Artificial fog, scented with a rosy perfume fell from above. A breeze was created by quiet fans and it caused the large wind chimes with deep, relaxing tones. Instead of rows of chairs, there were rows of big, white bean bag chairs and pillows for us to sit on. Against the back wall the caterer was setting up a buffet table. I was very impressed with the beautiful ice sculpture of a pair of doves with their wings spread.

Jean and Carlos wore flowing tunics of white linen and slippers. The ceremony was brief. Only a few words were said by the minister and the couple exchanged by simple gestures, like holding hands, a kiss on the cheek, wedding rings and a hug. The minister pronounced them husband and wife. Little bags of confetti on the ceiling exploded and the camera flashes went wild. The couple handed out small boxes and everyone went outside to watch the release of hundreds of butterflies outside into the air.

The band leader announced Jean and Carlos would dance for the first time as husband and wife. The Bride and Groom had been taking dance lessons so they would be prepared for that special first dance. They were so good that it motivated everyone to move the pillows and bean bag chairs out of the way and start dancing. They played all our favourite old songs by The Doors, The Who, Pink Floyd, and ELO. Jean and Carlos went around thanking each guest for coming; giving hugs and kisses to everyone. They were so elated!

When the buffet was ready and everyone started helping themselves to stuffed game hens with wild rice, freshly baked potatoes and steamed vegetables, miniature empanadas with a variety of fillings, an assortment of fruits, breads and muffins, as well as a wide variety of wines. The paper plates and napkins were sky blue with pictures of clouds on them.

After everyone had finished eating, the caterer cleared away dinner and brought out dessert of spiced cakes and fruit tarts with hot cider and mulled wine.

Instead of a bouquet or garter belt toss, Jean and Carlos brought out a basket of flower petals and condoms. They said whoever caught petals would find love, those who caught the condoms, would find passion and those who caught both would find true happiness. They took a group photo of the lucky ones who caught both.

The wedding cake was a three tiered carrot cake. After the cake was served, Jean and Carlos' parents thanked all the guests for coming by handing out little packets of wildflower seeds for us to take home and plant in memory of this incredible event. We all saw the bride and groom off on their honeymoon and danced long into the night.

A couple of weeks later I was pleasantly surprised when a video tape arrived in the mail. Several video cameras had been hidden around the room and caught many wonderful moments. It also came with a chocolate bar in a custom wrapper. There was a picture of the bride and groom along with the wedding date. I thought the idea was so original I hired them to make custom wrapped chocolate bars for my son's birthday party. The kids loved it and my son thought it was so cool to have his name and picture on a chocolate bar!

My aunt Julie, who was unable to attend, was thrilled to find there was a complete online-album of the entire event posted on the couples own Web page. I even took a look at it myself and was instantly reminded of what a terrific wedding it was as well as what a great time everyone had.


Related Categories
Back