Summer Heat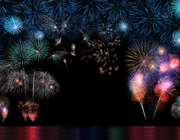 Celebrating New Years in front of the TV and yelling "Happy New Year" at midnight just isn't enough for me and this year I went to a party that completely blew away all other New Year's parties I'd ever been to, both in terms of fun and originality.

My friend, Sue invited me to her New Year's Eve party. She told me it was going to be a different kind of party than the usual New Year's celebrations. In late December everyone is really sick of cold weather, but nobody does anything about it. This year she wanted everyone to come to the party in summer clothes. I thought she was kidding and I reminded her how cold it is in December. She simply said that I could wear my summer gear under a coat – but I had to come. She also told me to bring a beach blanket, or beach chair, and a beach ball or Frisbee. Lastly she asked for my address so the coach could pick me up at my house on New Year's Eve. I thought she might have completely lost her mind, but I was intrigued.

A few people I knew were already on the coach when it arrived. Everyone had shorts and tank tops or sun dresses under their coats and no one was certain we weren't in for a very cold New Year's or what Sue was planning.

The coach took us to the city fairground and parked near a giant, clear plastic marquee! The plastic was completely clouded with condensation and we found out why as soon as we got inside. It was warm! Space heaters and heat lamps raised the air temperature so we all could take off our coats and hang around in our summer clothes in the dead of winter!

The lights and heaters were powered by a generator. Along one side of the marquee was a huge beach scene backdrop, complete with a crystal clear ocean and gorgeous blue sky and real palm trees had been placed in each corner of the marquee. A huge buffet of finger foods had been set up with a variety of soft drinks, and a delicious fruit punch. In the centre of the table was placed an impressive ice carving of a sun. A bar was set up between the tables of food where guests could get mixed drinks, champagne, beer and wine. Sue went around to all the guests thanking them for coming and handing out glow-in-the-dark necklaces.

Since the only tables were those the food was on, everyone sat on their beach chairs or on the beach towels they brought and socialised. There was a band playing rock and roll from the 50's and 60's. Of all the songs they played, their renditions of the Beach Boys were the best. It felt great to wear so little clothing in the middle of winter. We tossed beach balls around for a while until a volleyball net was set up. There were lots of volunteers for the teams and the rest of us watched cheering on our friends and took pictures of everyone having fun.

Just minutes before midnight, the lead singer of the band announced that outside there would be a fireworks display set to music.

Everyone put their coats back on and brought their beach towels and sat down as the 1812 Overture played through the speakers. Sue started the countdown and everyone joined in:
"Ten, nine, eight, seven..." fireworks exploded in the sky at the stroke of midnight. The grand finale was extraordinary! What a terrific way to bring in the New Year!

After the grand finale most of the guests went back inside and danced to the beach music the band played. It was after 2:00 a.m. when I was dropped off by the coach and though my glow-in-the-dark necklace shone brightly, I was fading, but my spirits were still high. I'll always remember Sue's 'Summer Heat New Year's party'.


Related Categories
Back