Yellowstone National Park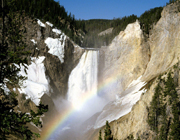 My wife and I love the outdoors. We hike, bike ride, and enjoy experiencing nature. So for our honeymoon last year, we decided to visit a national park with the idea that every year thereafter on our anniversary, we would visit a different one. Since it was our honeymoon we wanted to start with one of the best and decided Yellowstone would be the perfect getaway.

We rented a jeep for the ten days we would be exploring Yellowstone, excited to have the wind blow through our hair and the sun beat down on us. With a jeep we felt an adventure awaited, our own version of safari. We stayed in the oldest hotel in any national park (it was completed in 1891) with old world charm and a lake view. It received a renovation about ten years ago to become an elegant resort. We spent some time at the establishment, enjoying the string quartet that played in the late afternoon, and dining at their delicious restaurant where we could watch wildlife through the big square windows overlooking the lake. The outdoors, however, is where much of our time was spent.

Just to give you an overview of all that we saw: soaring tall and straight pine trees, spruce and fur trees, wildflowers galore in yellows, blues and reds, elk, moose, deer, bison, bears (off in the distance), bighorn sheep, and around the lakes and rivers, geese, white pelicans, and many other of the park's over 250 bird species.

On our first full day we got up extra early and made our way to Lamar Valley and watched the wildlife wake up. We then explored several lookout points, taking short paved walks, then walking the North Rim Trail that offered both river views and peeks at the Lower and Upper Falls that were just amazing. We were so excited to be a part of this spectacular scenery and were just in awe of all its beauty. We ate a picnic lunch and then decided to see Old Faithful. We walked the 1.3-mile Geyser Hill Loop and took several other Upper Geyser Basin trails. We really wanted to get our money's worth here, visiting probably the most famous spot in national parks so we waited to see the geyser's eruption from the deck of a historic inn.

On another day we took a scenic drive along the Grand Loop Road and detoured to the narrow and tortuous (we went extremely slow – luckily it was only a mile and a half) Upper Terrace Loop Drive where we saw 500-year old pine trees and eerie landscape decorated with mosses growing through white travertine and bright orange, yellow, green, and brown algae growing on top. We needed to use the flash on our camera to take pictures. We continued on to the northeastern Grand Loop where we saw some of the park's finest scenery. We passed Mt. Washburn and took the rough, unpaved Chittenden Road (we love doing the off-road and a bit more dangerous stuff) that took us up a mountain for a sweeping view of the land below. We parked the jeep and hiked 3 miles further to reach the Grand Loop's highest point, Dunraven Pass, and stood in awe of the valley below. Other short paved trails that day gave us further views of the falls in the distance and we were fortunate enough to catch a rainbow.

Most of our days were spent like this, seeing fantastic landscape and wildlife. We enjoyed so many more nature trails, our favorite being the Storm Point Trail, which took us to Yellowstone Lake. We passed a moose habitat, saw pelicans, ducks and swans, and heard the shrill chirping of birds, so we thought. We found out later it was actually a rodent called the marmot making the noise. We basically couldn't get enough of the park and so everyday was a privilege to be part of the great expanse. And it was just the two of us the whole time, which was very romantic. We had picnics, brought a book to read when we wanted to sit and enjoy a special place, held hands, and even got a little frisky in one secluded area.

One other great day was spent fishing. We obtained a fishing license at the visitor center and sat for hours talking while hoping to catch a brook, lake, trout, or whitefish. The park's policy is catch and release, which was fine with us. It's the thrill of the catch that's fun. My beautiful bride was the only lucky one that day.

We also went bike riding, renting mountain bikes, and exploring the narrow, rough roads we missed out on when driving. They were still treacherous in parts, but again we loved the adventure. For anyone who loves the outdoors, Yellowstone is an incredible place to be.

By the evenings, we were usually exhausted – and hungry. The food inside the park was amazing. We ate dinners that included prime rib, shrimp, pan fried Idaho trout with slivered almonds, grilled ahi tuna, baby-back ribs, fried chicken, I could go on and on. The bottom line, dinner was a scrumptious full meal wherever we went. And the stars in the sky at night sparkled like diamonds. We made a wish every night and then thanked those lucky stars for our good fortune.

Our honeymoon was the most exhilarating trip we'd ever taken. It was everything we hoped it would be and more. While couples often travel to tropical paradises for their honeymoon, this was our version of paradise and as we left we were already talking about the next national park we would visit for our one year anniversary.
Related Categories
Back