Aviation School Reunion Party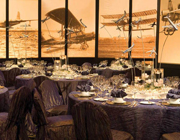 I just returned from my ten-year school reunion and it was fantastic. The emblem for my school was the eagle so the reunion committee decided to go with a "Take to the Sky" theme. The invitation I received in the post asked guests to come see how high our class had soared. The headline "Take Flight for a Memorable Night" was written at the top of thick blue parchment with a drawing of an airplane on it. All of the party specifics were included and then I noticed the where. The reunion was going to be held in a hangar at a small local airport. Slightly strange you may think, so let me go into more detail...

Three of my close school friends and I decided we should arrive at the reunion in style so we rented a limousine. We all met at my friend Trish's house to get picked up and planned on leaving early enough for a limo ride around town before getting to the airport. We were all pleasantly surprised when a young, handsome driver knocked on Trish's door to announce the limousine was here. We excitedly made our way to the black stretch limo and all batted our eyelashes at our escort. He smiled in return and told us if there was anything special we needed to let him know. I could think of a few things…

The ride to the reunion was really fun. We poured ourselves some drinks, cranked up the music, opened the sunroof and engaged our driver in a little innocent flirtation. When we arrived at the airport hangar our chauffeur graciously helped us out of the limo and said he'd be back to get us in 4 hours. We told him we'd be ready and each blew him a kiss.

As we entered the hangar, an airplane flew overhead, the perfect signal that we were in for a one-of-a-kind party. And indeed it was. As we walked through the doorway, we found ourselves inside a hallway, very similar to the walkway you go down to get onto an airplane. A man dressed in a pilots uniform motioned us forward and told us to enjoy the flight. At the end of the hallway we found ourselves inside the hangar and it was decorated just like the inside of an airplane. It really was an amazing replica.

There were seats lined up in rows just as there are on an airplane. Each seat had it's own tray table and there were "wing" pins on each tray with our school's name, emblem, and reunion date on them. Women and men dressed as flight attendants were walking around with metal beverage carts serving drinks and handing out small bags of peanuts. A screen was set up at the front of the "plane" and a nature film on eagles was playing. A faux ceiling hung above all the seats and oxygen masks dangled down. And there were lavatories that served as picture booths so you could get your picture taken with friends.

There was also a "cockpit" – a dance floor with small consoles and screens around the perimeter to look like the real thing. Upon closer examination, the screens were showing simulated panoramic flight views as if we were up in the sky above the clouds. It was awesome, but made my one girlfriend a little nauseous. We stuck to dancing to the mix of tunes that the DJ was playing and not viewing.

It was great fun seeing people we hadn't seen since Leaving School. People hadn't physically changed all that much, but their personalities had. Some were married, some still going to school, some in great jobs, others still not quite sure what to do with themselves. Everyone was genuinely happy to be at the reunion, and we all took to the air – literally.

Outside the hangar was a fairground ride where guests got to sit in small airplanes and go for a spin. It brought back fond memories of childhood rides and made us all realise we aren't that old yet.

Everyone took a seat for dinner and ate from the tray tables. The flight attendants walked down the aisles asking chicken or beef, and we made our selection. The food was excellent - much better than real airplane food - and served on an authentic tray with plastic silverware and paper napkins. The drink cart made its way down next, with soda, beer, and spirits. When everyone had finished eating, a short movie was shown. It was a montage of different television and movie comedy sketches making reference to school reunions. Everyone got a good laugh and then hit the dance floor.

Not wanting to turn into a pumpkin, when our 4 hours was up, we said our goodbyes and headed out. The reunion was a blast and well worth the ticket price. We got a few phone numbers and promised to keep in better touch.

We took the long way home and my friends and I talked non-stop about the evening. We made a pact to attend the next reunion together and wondered what could possibly top such a great night.

Over the next few weeks we exchanged our personal photographs of the reunion by email and put them on an online album for everyone to enjoy. Someone also put together a video of the event and sent copies to all the members of the class.

Related Categories
Back