Victorian Tea Party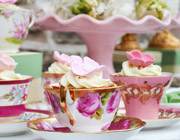 This year, my sisters and brother and I decided that instead of sending cards, roses or even taking our Mum out to lunch on Mother's Day, we were going to make Mother's day more of an event. Our Mum certainly deserved it. It took some doing, but we found a date we could all meet to decide on a budget and what kind of party we wanted to throw. Money was much easier a topic than what to do. Finally it was Jesse, the youngest, who made the suggestion of a Victorian tea party. The rest of us were not convinced our modest budget could do justice to such an elaborate party theme, but Jesse insisted the décor would not need to be elaborate to create an authentic feel.

We voted unanimously to have the party at my house as it was centrally located and had the nicest garden. We divided up the party arrangements between the three eldest kids meaning I ended up with most of the work. I was in charge of ordering the food, renting the tent, chairs, table and linens as well as decorating them. Scott was given the task of providing music and entertainment to match our Victorian theme. Sarah would find a place that rent Victorian costumes and pick up the food from the caterer. Jesse's duty was to help me set up on the morning of the party.

Mother's Day morning Jesse helped me set up the white tent and decorated it with ribbon garlands and bows. We set up the chairs, covered the table in cream-coloured damask linen, and set it with my own china, glasses and silverware. The finishing touch was a centrepiece created by a local florist.

Sarah arrived in plenty of time with the Victorian costumes and the food from the caterer which included tea, scones, muffins, mini-sandwiches, Waldorf and Ambrosia salads. I made a pitcher of lemonade and a prepared a teapot to brew some Earl Gray tea.

Shortly after Sarah came in the door, the string quartet arrived and began setting up. Jesse's friend Megan, who spent nearly as much time at our house as her own as a teen, volunteered to come dressed as a Victorian maid and serve lunch as a way to say thanks for all the sandwiches and lemonade our Mum had made for her over the years. By this time we decided it was time to get into costume and I could only imagine the look on Mum's face when she opened the door and saw Scott, dressed in a morning coat, ascot and top hat, waiting to take her to lunch.

At noon everything was ready. We were all in costume sitting around the table in my garden listening to the soothing sounds of the string quartet and enjoying the spring breeze. We excitedly awaited our Mums arrival like a page out of a Jane Austin novel.

The bell rang, Megan ran to answer it and showed Scott and Mum to the garden. We all stood as she entered looking like a picture of elegance in her Victorian gown. She kept repeating that we should not have gone to all this trouble for her, but she was certainly smiling and laughing a lot more than she did just going to a restaurant for lunch.

After Scott seated us, he took his place and Megan began setting out the trays of scones and muffins, then poured the tea and lemonade. Mum went on and on about how lovely everything looked, what a perfect day and what a surprise the party was. When everyone had finished the tea and cakes, Megan took the trays away and served lunch. The doorbell rang as soon as she finished, so she went into the house to answer it and we all looked puzzled, wondering whom it could be, except for Scott. He excused himself and gallantly said he wanted to see if Megan needed any help. I think he was really getting into his role. After a few minutes Megan and Scott returned and Mum insisted she join us. Megan served herself a plate and sat next to Jesse.

After lunch, two fortune tellers arrived and read our fortunes using palmistry and tarot cards. I was pleasantly surprised by the accuracy of my reading. Mum was not sure she wanted to get a reading, but curiosity got the better of her.

Scott invited us to come inside for the second half of the days entertainment. Intrigued we followed him to the living room where a parlor magician performed some pretty amazing tricks and even Scott got into the act doing a little 'sleight of hand' of his own he had practiced for this occasion.

After the party was over, Mum insisted on helping us clean up. She said it was a way to thank us for the best Mother's day ever.


Related Categories
Back