Veggie Barbeque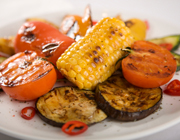 Every month, one couple out of a group of us takes turns hosting a dinner. When it was my turn, I wanted to do something interesting and creative. My theme was an old-time barbeque, but with a twist--no meat!

All of my friends were really enthusiastic when I told them about the party. Everyone knew exactly what vegetable they were going to bring.

The set-up wasn't fancy. All I did was cover the picnic table in my backyard with a red and white checkered, plastic table cloth and set it with disposable utensils, plates and cups. I filled a cooler with ice and lots of soft drinks, beer and wine.

I found some inspirational grilling ideas on the internet. The most interesting was one for grilling avocados. You might think you couldn't put an avocado on the grill, but you can and it was very easy. All you had to do was wrap a peeled avocado half (with the pit still in) inside a grape leaf soaked in water. You grilled them on medium low heat until the grape leaves were crispy and completely dried. They could be served just like that. The web site also had a recipe for making an avocado sauce for pouring over the grilled avocado made from fresh avocado, chopped garlic, green onion, sage, a few drops of lemon juice and sour cream

Each guest arrived with their creations or with fresh vegetables to grill. Everyone had a lot of fun taking turns at the barbeque. My favourites were the asparagus marinated in a spicy sauce. I never knew barbequed corn could taste so good and the spaghetti and grilled eggplant was heavenly. Even the grilled carrot, onion and tomato skewers were delicious. I took pictures of all the dishes.

There was so much to eat, we all were stuffed by the end of the meal. Of course, we couldn't have a barbeque without some kind of dessert so we sprinkled cinnamon and sugar on some bananas and sliced apples, wrapped them in tin foil and put them on the grill. The experiment was a success especially when served with vanilla ice cream. As I snapped a picture of the dessert I decided it would be nice to make a recipe booklet of all the tasty vegetarian dishes served at the party.

Everyone loved the idea and suggested new recipes be added from future dinner parties. That was even a better idea, not only would we all have the recipes from this party, but every recipe as a memento of each dinner party.

The remainder of the evening, we sat around listening to Bob Dylan CDs and playing Trivial Pursuit. None of us are very good at it, but I think that makes the game more amusing. Sometime after midnight and a few cups of coffee later, my guests started for home.

Since everything was disposable, cleaning up was very easy. I pushed everything on the table cloth into a bin bag and wiped the plastic table cloth with a sponge. I tossed thee spatulas and tongs into the dish washer and all the cans and bottles into the recycling bin then went to bed. Simple and easy – what could be better.


Related Categories
Back