Barbados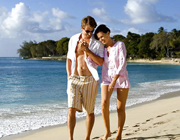 When my wife and I were deciding where we should go on our honeymoon, we both knew we wanted to go somewhere luxurious and relaxing. She loves spas and so I thought a great spa hotel would be the perfect honeymoon destination. We've been back a few months now and we still feel great from the pampering we received. The luxury resort we went to was in Barbados.

When we arrived in Barbados we were greeted at the airport by a chauffer-driven Bentley. My wife and I grinned at each other and knew we were in for the trip of our lives. Neither one of us had ever been in such an expensive car and we enjoyed the attention. As we made our way to the hotel, we saw fine sandy beaches, lots of coral rock, and sugar plantations. The blue sky was amazing and when we reached the resort we were impressed by the emerald green grass, red, yellow, and white flowers, and impeccable buildings.

We entered a world of privilege when we entered the lobby. Italian marble was everywhere and the staff was very attentive. We were shown to our suite (the hotel was an all-suite establishment) and a butler – yes butler – showed us how to use all the electronic controls in the room. The suite was tastefully decorated and we had a veranda with a view of the ocean and well kept hotel grounds. My wife loved the large marble bathroom and I especially liked the flat screen TV with Internet access (although I promised no business).

Our first night was spent entirely in the suite, doing what honeymooners do. We ordered room service and sat on the veranda while we ate. It was a balmy 80 degrees and a slight breeze ran through our hair. We feasted on fish, rice, and yams, and drank champagne.

Since it was the spa that brought us to this extraordinary place, we had made reservations for daily spa treatments. The guests-only spa was 47,000 square feet of marble and limestone. Waterfalls oozed tranquility and we immediately relaxed. We went our separate ways, each visiting the steam room before receiving massages. The one hour massage was the perfect way to start our day. My wife also enjoyed a facial that she said left her feeling more youthful and free and of any impurities. Each day was be like this. While I preferred massages, my wife also enjoyed a manicure and pedicure, herbal linen wrap (twice) and a body exfoliation treatment. She also indulged in more massages and I have to say being pampered every day loosened us up and made the bedroom activities that much more fun. We were at total peace and our bodies were well rubbed, scrubbed, and lathered.

We also enjoyed the hotel's fitness center with state-of-the-art equipment. Exercise got our endorphins going and we really enjoyed showering off together after the workout. My wife tried pilates for the first time and while it left her a bit sore the next day, between the masseuse and I, she was feeling little pain. And I have to mention the Ice Cave – a refrigerated room where ice chips spill into a large sink. It was recommended we take a dip by plunging our face into the ice. We did it once and it was very exhilarating.

All this indoor activity didn't take up our whole day. The outside of the hotel was also superior. Cascading waterfalls surrounded four swimming pools set in tropical gardens. There was an outdoor hydropool that featured underwater lounges made of steel rods from which bubbles escaped. (It was very cool.) And white umbrellas, tables, chairs, and lounges were always in view and available. We really enjoyed swimming and basking in the sunshine. We talked, read, and drank tropical concoctions poolside.

The resort was home to a beautiful 18 hole golf course that we admired (since we don't golf), but we did play some tennis a couple of times. One day we ventured away from the hotel to visit the capital city of Bridgetown. We also visited Speightstown, an old whaling port, where we bought a few souvenirs. Cricket is a very popular sport in Barbados so one evening we enjoyed watching a match not far from our lodging. The locals really get involved and since they speak English, we didn't miss out on anything they were yelling.

All in all it was a magical vacation. The spa experience was unlike any other and the luxurious resort worthy of every star. We spent our last night like our first, out on the veranda, enjoying the scenery, food, and private time. Bedroom activities kept us up late, (all those electronic controls) but we wanted the last night of our honeymoon to be unforgettable. It was the perfect ending to a perfect week of pampering.
Related Categories
Back