Chef-Cooking Lesson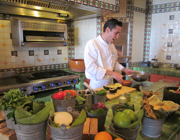 Party guest either watch or participate in food prep. (limited menu) Party for all occasions.
Event Types
Adult, Corporate, Halloween, Dinner Party, Sweet 16, Quinceanera
Age Groups
Adults, teens, children
Setup
Nicely set table and chairs w/dishware & utensils to serve the meal
Dress code
Casual
Music
Soft background music
Food/Drinks
You may choose to have a four course party, starting with Hors d'oeuvre, followed by first course, main course and dessert. You may also chose to have a small plates menu with dishes from around the world, such as Mexican, Indian, Chinese, Italian etc. If you are planning your kids party Pizza it's always a favorite dish. For Drinks wines, soft drinks, etc.
Tips
May be a home kitchen or rented facility with professional chef. Kitchen needs lots of workspace good lighting easy access to stove, sink, trash, sufficient tools/utensils chairs/stools for observers. Participants each person is assigned a different task in all stages of food prep. & presentation Chef demonstrates, supervises & explains the stages. Observers: sit across the counter form chef large work area, large mirror behind chef to reflect actions. Video take the whole process. Guest receive written recipes & video.
Back