Greek Mythology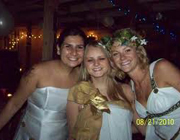 My friend, Sarah, was turning twenty-one and was talking to me about throwing a party to celebrate. She said she wanted a theme, something that would go with lots of drinking, like a toga party. I told her that people dressing in sheets had been done to death. Why didn't she make the theme something more creative, like Greek Mythology? Guests could dress as gods or heroes and the costumes could be elaborate or as simple as they wanted. Sarah liked the idea.

Sarah made very creative invitations to look like miniature scrolls. Inside was an invitation from Zeus and Hera to come to Mount Olympus in honour of Demeter's birthday. At the end she wrote, 'Only gods and heroes admitted. Please dress appropriately.'

The afternoon of the party Sarah and I decorated her apartment. First we covered the sofa, chairs and other furniture with white, purple and burgundy fabric remnants she had picked up at the fabric shop. We also wound artificial ivy around the columns she had rented from a prop shop. I had found some fantastic plaster cupid statues at a car boot sale. Sarah painted them gray and used a sponge to apply watered down paint in a darker colour making them look like textured stone. We were impressed with our own work.

We covered her dining room table with a white sheet and taped more artificial ivy around the edge. It looked fabulous. We set to work in the kitchen preparing trays of snacks like cubed cheese and pineapple, sliced fruits, various salads and dips, and strawberries dipped in chocolate. I garnished the trays with some mythical animals made from carved fruit. I learned how to make them from an article I read on-line. They looked pretty good for my first try.

While Sarah was getting dressed for the party I went to the supermarket and picked up a tray of stuffed grape leaves, and at least six rotisserie chickens. I also picked up some bags of ice, another twelve pack of beer and a couple more bottles of vodka- just to make sure we had plenty to drink. I also bought some white and red grape juices for underage guests or guests who did not drink. I stopped by the bakery last to pick up the cake I ordered for Sarah. It was decorated with an amazing sugar and dough sculpture to look like the home of the gods atop Mount Olympus.

When I returned, Sarah was dressed in her Demeter costume. She looked great. She took the shopping bags into the kitchen and I went to get changed. When I came out harp music was coming from the stereo. I looked around Sarah's apartment amazed how different it looked.

Sarah told me she loved the cake and had put it on the table with the other food so everyone could see it and take pictures of it. We made one last check to make sure everything was ready for our guests, and it wasn't long before people started arriving.

The costumes were great. All the Greek gods were there, some even had doubles. There were two girls dressed as Athena and three guys dressed as Hercules. They made a joke of it and told everyone they were triplets. I took lots of pictures, some candid and some posed so Sarah and everyone else would have something to remember the party by.

Everyone got into the spirit of acting and speaking in character --well, like they imagined gods might talk at a party. The party took on a life of its own and some pretty amusing things happened, like Alec, the guy Sarah liked, calling for a toast to her birthday after the cake was cut. Everyone raised their glasses and toasted her then chanted, "Demeter! Demeter!" until she gave a little speech. By the end of the evening, Sarah and Alec, who had come dressed as Zeus had hooked up.

Everyone had a really good time. It was a great party everyone will remember for years to come, especially Sarah.


Related Categories
Back