Hayman Island, Australia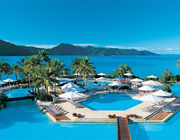 One of my dearest friends worked on Hayman Island at their luxurious resort before she was married and told me stories of its charm and romanticism. So when it came time to plan my honeymoon, I knew where I wanted to go. I got married in December – summer in Australia – just so I could visit the island after my wedding and spend a romantic rendezvous with my new husband.

We flew to Sydney and spent one night there. We visited the Opera House and traveled over the Harbor Bridge, seeing the two most important landmarks. From there we flew to Brisbane and took a yacht for the 50-minute cruise to Hayman. Onboard we were treated to champagne and did all of the necessary registration for check-in so when we got to the hotel, we were ready to go straight to our room.

The island was breathtaking with palm lined beaches and a thick blanket of Eucalyptus trees. The resort stretched 3 miles along a cove partnered with a beautiful white sandy beach. The 245-room retreat was a tropical paradise with lush gardens, waterfalls, reflecting pools filled with swans, original artwork and sculptures, and perfect Aussie hospitality.

Our room was fantastic. There was a large lavish marble bathroom when you walked in and the bedroom was spacious with a comfortable sofa and chair in addition to the king sized bed. Glass patio doors opened to a private balcony with a view of the beach and lagoons. The room included all of the amenities we could ask for and we couldn't wait to just kick off our shoes, jump on the bed, and smell the warm sea air from our terrace. We spent some time in our room before venturing out to see the rest of the property.

We were thrilled to be in a tranquil setting with immaculate surroundings and top- notch services. We wanted a honeymoon where we could relax one day, and take advantage of our close proximity to the Great Barrier Reef, the next. The Hayman offered us a dream vacation and every moment felt like heaven. We love the water, the kind with chlorine and with salt, so this was truly the perfect place for us. We spent many of our days at the pools. There were two – and each offered a completely different feel. One was an intimate pool surrounded by tropical gardens and fish ponds. It was quiet and we liked to go there to read. The second pool was a one-of-a-kind: a fresh water pool that floated in the midst of a huge salt water lagoon. It was at least 5 times larger than an Olympic pool and spectacular to be in and around. With the bright blue sky above, wind whispering in our ears, and ocean beckoning in the distance, we felt as if we never wanted to leave.

Ahh, the ocean…because of the resort's close proximity to one of the best reefs in the world, the snorkeling and scuba diving right from the hotel's beach was awesome. Fish of all shapes and colors were in abundance and we enjoyed afternoon snorkeling every day. The water was warm and inviting and we brought along an underwater camera to take pictures. My husband is a little more advanced than myself, and dove down to touch beautiful sea life on the shallow ocean floor. After our ocean swim, we would visit the hotel's spa to unwind (as if we needed it) in the sauna or steam room. One day I indulged in a massage that left me feeling so relaxed I napped before dinner.

The resort had five superb restaurants. Hayman bakes its own bread that is to die for – we could make a meal out of it alone – and makes chocolates and ice cream that we had to have every night for dessert. We dined on fresh regional seafood every night. During the day, our favorite eating spot was an informal indoor/outdoor Italian bistro that featured salads and pastas. On our last night at the hotel, my husband surprised me with a private dinner for two on the beach. It was so romantic eating by candlelight, our feet buried in the soft sand.

We did partake in a few other hotel activities, including table tennis, badminton and golf on the putting green (that's about my speed). And we went all out one day, splurging on a helicopter ride that went directly over the Great Barrier Reef. It was magnificent with once in a lifetime views.

Hayman Island offered us our dream honeymoon with every luxury item and service available. From the pools, to the beach, to the restaurants and island facilities, we were on cloud nine and hated to leave what we thought was one of the most beautiful places on earth. We promised each other we would return one day.
Related Categories
Back