Olympics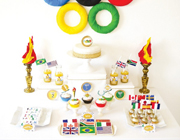 My twin sons Michael and Peter are both excellent runners. Every year they win gold medals in the track events at their school's Olympics. It is their dream to someday compete in the real Olympics. So, for their birthday the boys wanted to have their own Olympic games.

The cover of the invitations the boys made had a drawing of the five Olympic rings on the cover. Inside there was a picture of a gold medal and underneath was written, "Wear your running clothes and be ready to go for the gold. You are invited to the 1st annual Smith Olympics." Below were the details of location, date and time. We decided to hold the party at Grandma Smith's house as she has an absolutely huge back garden.

The maintenance man from the local comprehensive school was friends with grandma and mowed the lawn for her. He also outlined 1/8th mile track in chalk instead of a 1/4 mile one, since our competitors were only eleven year olds. In the centre of the track he drew a line for the long jump. Except for the medals we were all set.

We went to a craft shop and bought, red, white and blue ribbon for the custom made medallions we had made. The boys and their dad, John, painted them gold, silver and bronze. It was important that every boy would win at least one medal, even if we had to make up a new event.

On the day of the party everyone was pretty excited. Grandma was sat in a deck chair, drinking wine and enjoying the competition.

The first event was the fifty metre dash. All of the boys competed in this event. Peter won that one with Michael came in a close second. Their friend Alex was third. We had a mini ceremony where the boys received their medals. The other boys clapped and cheered. John interviewed the boys like a reporter with his video camera. We made copies of the tape and sent it to all the boys.

The games continued until all the boys had at least one medal. Michael and Peter each had two. By the end of the games all of them had worked up an appetite.

John had set up a few picnic tables and barbecued us some burgers, steaks and chicken. We had corn on the cob, baked beans and grandma's special potato salad. Grandma also made some of her special lemonade. The boys gobbled everything up, practically licking their plates. There was cake and ice-cream for dessert. John had frosted on the five coloured rings and trimmed the cake with red white and blue stripes. It looked so fantastic I had to take a photo of it.

After the meal the boys opened their presents and then continued playing with their friends on the lawn. Michael and Peter hung their medals on their bedroom wall as inspiration for the future.


Related Categories
Back