Tarzan and Jane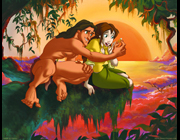 When our best friends, Brian and Carla, got engaged, my husband and I decided to give them a wedding shower. A couples shower would be fun and different and allow us to go a little wild. We wanted to do something unique and remembered their first date had been a trip to the zoo. I called the zoo to see if we could have a party there and they said yes. The zoo it was!

With the zoo the location, we decided to use Tarzan and Jane as our theme. We invited guests to join us "in the jungle" to celebrate the upcoming nuptials. I hand delivered water canteens to those invited. Inside the canteen was a rolled up invitation with all the specifics of the party. On animal printed stationary, guests were asked to swing over to the zoo for a "Me Brian, you Carla" celebration. Loincloths optional.

My husband and I visited the zoo prior to the party to see where we were going to be and to meet with a zoo representative regarding food. On the big day, we got to the zoo early to set everything up. We were given an area with tables and swivel chairs under an overhang. We covered the tables with black plastic tablecloths. At the center of each table were long stemmed sunflowers surrounded by bamboo that were tied together with natural raffia ribbon so that they stood on their own. We covered the overhang with plastic vines I purchased at a craft store. Plastic hibiscus were added throughout to add color to the vines. Around every other chair we tied a small jungle stuffed animal – elephant, monkey, lion, tiger – for the girls to take home. And on the other chairs (for the guys), we hung an inexpensive pair of binoculars for them to take home. We included place settings because we wanted to mix everyone up. They were stand-up cutouts of Tarzan or Jane with each person's name written at the bottom. We also brought our boom box and a specially mixed cd to play during the party. Songs like Jungle Love, Eye of the Tiger, and Beauty and the Beast, sounded throughout the festivities.

We greeted Brian and Carla and all of the guests at the front of the zoo. The zoo gave us a special group rate and we handed everyone a ticket as they arrived. As hosts, my husband and I decided to dress the part, and wore our best safari attire, hat and all. We became tour guides and each dangled a camera around our neck, warning our subjects to stay alert for photo opportunities. When everyone was accounted for, we led the group to the party site. On our way, we stopped for a group photo in front of the flamingos. Another one in front of a waterfall. And yet another one beside some rather huge elephants. Finally at our destination, Brian and Carla couldn't believe their eyes.

An event coordinator for the zoo was waiting when we arrived and we immediately sat down for lunch. Hamburgers, chicken tenders, French fries and green salad were served. Pitchers of soda and water were placed on the tables. The servers left and we were able to enjoy our private party. When everyone finished eating we played a game called Jungle Jeopardy. We had gotten together with Brian and Carla to get some information about them. We made up a large Jeopardy game board with four categories: Favorite Foods and Drinks, Childhood Days, Leisure Activities, and Pet Peeves. We made up 8 answers about each category and assigned a different dollar amount. Just like to TV game show, guests would choose a category, hear the answer, and have 20 seconds to "answer" in the form of a question. We handed out play money when people gave correct answers and the couple with the most money at the end won. We rewarded them with a collection of Tarzan movies.

A trip around the zoo was next. We stayed together as a group and visited all of the animals. It was a beautiful day to be outside and the animals were all on their best behavior. We stopped to take several pictures and really enjoyed walking around, talking, and laughing. When we had covered most of the zoo, my husband and I led everyone back to the party site for dessert.

Again, the event coordinator was there (we had prearranged a time schedule) and everyone sat, thankful for the chance to rest in the shade. Dessert was banana splits for two. (Since this was a couples shower, we wanted to keep a twosomes theme too.) Piled high with ice cream, chocolate syrup, whip cream, and bananas, they were more than enough to share. We took several more photos among the party decorations, then gathered the gifts for Brian and Carla to open. They were thrilled with the presents and couldn't thank everyone enough. We reminded everyone to take their party favor off their chair and shouted (as Tarzan would) goodbye.

My husband and I stayed to clean up and settle the bill. When we got home there was a message on our machine from Brian and Carla telling us the shower had been the best day of their engagement.
Related Categories
Back