Terminator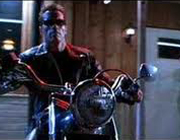 My son, Andrew's, favourite movie, at least for now, is "The Terminator". All his friends like it too, including Marcus, who recently celebrated his Bar Mitzvah. Andrew had never been to a Bar Mitzvah before. He had such a great time that when he came home, he told me all about it and then asked when he could have one.

Andrew received a video tape in the post several weeks before the party. It was a two minute movie of Marcus, dressed like Arnold Schwarzenegger as the original Terminator from the first movie. Marcus did his Arnold impersonation and said, "Come to my Bar Mitzvah party, okay? We'll have fun, dance, eat cake, and you'll be back home by midnight."

I picked Andrew up from school and dropped him off at the hotel banquet hall where the service and party would take place. Everything in the hall looked like metal. Andrew told me that the robots standing guard with blinking eyes and moving arms, and the scenes painted on the plywood cut outs of destroyed tanks and cars strewn about, were rented from a movie prop shop. There were even jungle gyms and slides painted in camouflage colours for them to play on.

The guests signed a life-size cut out of the Terminator as a memento for Marcus to take home. There were chocolates, cakes, pastries, biscuits and other sweets for the kids to munch on. Strobe lights lit the dance floor and the DJ played modern music, including some techno dance music. Andrew told me that Marcus did a really cool robot dance. The other kids laughed and had a contest to see who could do the most outrageous dance. Marcus still won.

Once everyone had arrived, the Aliea La Tora was performed on the hall stage. Then, since Marcus was already in the hall, his grand entrance was a ride around the hall in an electric scooter decorated to look like the Terminator's motorcycle in T2. It was his Bar Mitzvah gift from his parents. The DJ played the "Terminator" theme music as he drove around.

Marcus' great uncle performed the Hamotze. The adults had soup and drank wine. A videographer wandered around recording everyone as they ate dinner, danced, sang, and laughed.

A modern rock band set up on stage and played while the kids played games. The band was wonderful, especially because they played a variety of music from modern to oldies so everyone had music to dance and sing to. Andrew said all the adults were lame dancers and he took pictures for evidence that adults acted weirder than kids sometimes.

Later in the evening, Marcus thanked everyone for coming and then the traditional candle lighting ceremony was performed. Instead of 13 candles being lit with one candle, they were lit with a butane lighter in the shape of a miniature 'Terminator' rifle. Andrew wished he could have taken it home with him.

The parents of Marcus' friends began arriving just before midnight. Marcus' parents thanked everyone for coming. They announced that the collector's Terminator action figure was hidden somewhere in the hall. While they were looking for it, an Arnold Schwarzenegger look-alike dressed as "The Terminator" walked in. Andrew said all the girls went crazy when they saw him. I'm sure he was thrilled, too.

One of the kids did find the toy, but Andrew mostly talks about the picture taken of himself with the Terminator. Every child had their picture taken with the Arnold Schwarzenegger look-alike, before they left. Andrew had an excellent time and from what he told me, so did everyone else.


Related Categories
Back