Venice, Italy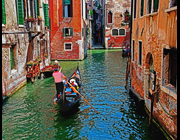 Your honeymoon is supposed to be an unforgettable trip and having never been to Europe, my vacation to Venice, Italy, with the love of my life after a fairy tale wedding day, was that and so much more.

My betrothed and I love to sight see, we are not ones to laze around and read, so we decided a European adventure to Venice would keep us busy. We weren't disappointed. Our first impression of Venice was that it was truly enchanting. The sights and sounds were intoxicating and we couldn't wait to step foot in every cobblestone corner.
We watched the gondolas whisk passengers along charming canals (and took a few ourselves), got lost among a maze of pathways, and discovered how much fun it was to skip over tiny bridges. We felt like kids again, experiencing life for the first time. We fed birds in St. Mark's Square and climbed the Campanile to hear the bells ring. We loved looking in the windows of artists' shops and visited a mask making shop where we learned how masks are made. We were delighted by all of the sculptures, especially of lions, and started counting them for fun - we heard there were over 1,000 of the lion statues.

We stayed at the largest hotel in Venice – a Gothic looking palace with Murano (glass blown) chandeliers in incredible colors, marble everywhere, and a golden staircase. It was a luxurious spot to start and end our days, for in between we were rarely there.
One of our favorite things to do every day was sit in a café and sip cappuccino. We would hold hands and people watch, making up stories about the lovely strangers walking by us. Children delighted in feeding the pigeons and we watched with longing, knowing one day we would be blessed with little ones. We talked about names for our children and how many, and how fun it would be to bring them back here one day.

The enormous Piazza San Marco is where we often stopped at some point during each day. With so much to offer, it took a several days to see everything. We visited the Saint Mark's Basilica and found it to be so rich in appearance that we felt like we were in another time. Just standing in something that had begun close to 1,000 years earlier was amazing. The lavishly decorated church would remain one of our favorite spots. We also greatly enjoyed Doge's Palace, a museum unlike any other with its dazzling style and offers of medieval, renaissance, and Venetian exhibits. The archways, sculptures and impressive staircases were themselves an attraction and we spent hours pouring over the look and feel of the palace.

After seeing the incredible chandeliers at our hotel, we had to visit Murano and its glass making factories. We were ushered into a factory where we saw first hand the blazing furnaces and could feel the substantial heat. After the factory visit, we were led to a display room where different types of glassworks were for sale. We bought a beautiful glass sculpture as a remembrance of our trip.
With so much sightseeing, we felt one day of rest would be enjoyed so we spent an afternoon at the Lido – Venice's beach resort – sort of. There isn't a lot of sand to lay your towel on, instead there are cabanas everywhere. We were happy to spend time in one, busying ourselves with plans for the next day's excursion while burying our toes in the sand and watching the ocean. We wanted to experience it all, and this was part of another exceptional day.

I really enjoyed the Rialto Bridge, one of three bridges that cross the Grand Canal. It was very charming with shops stuck to its sides brimming with one of a kind treasures. The bridge took us to the Rialto markets, where there was tons of fresh produce. We visited the fruit, fish, and vegetable stalls and bought a little something at each to try. Everything was delicious. Speaking of food, we dined at so many exquisite restaurants during our trip. We ate fried scampi, sea bass, salads smothered in cheese and tomatoes, lobster, swordfish, and of course pizza and pasta. All the food was incredibly flavorful.

We also took a train ride to Verona one day. The one hour trip was a must because my husband wanted me to see Juliet's (yes, Shakespeare's Juliet) balcony. While there he presented me with a gift – a beautiful platinum heart necklace with two diamonds symbolizing the two of us. He put it around my neck and we embraced as the two star-crossed lovers once did.
There were more museums and architecture to witness, and bridges to cross (around 400 of them) and we made every effort to see it all. Our honeymoon was a priceless journey and a trip we recommend to anyone wanting to see a part of Italy.
Related Categories
Back