Christmas Friendship Luncheon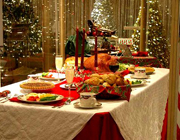 In order to share a little holiday cheer with my closest girlfriends I started a Christmas tradition several years ago. It takes place at my home at the beginning of December and includes just a handful of guests. Last year's was my most successful yet.

The most important element of the luncheon is a beautifully set table. I start with a lovely cranberry coloured tablecloth. White place mats with silver satin around the edges go next. Off-white plates, napkins that match the placemats and my best silverware finish the place setting. The glassware includes a large water goblet, champagne flute, and off-white coffee cup and saucer. At each place setting I include a flower tree – a tabletop tree made from my favourite flowers that serves as a place card.

To make a flower tree you'll need: florist's foam (the green foamy block you can buy at most craft shops or at the florists,) a small ceramic urn about 4 inches in diameter, flowers (we'll talk about which in a moment,) scissors, a knife, and a bucket of water for keeping the flowers in until you're ready to use them.

Soak the florist foam in water for about 20 minutes until it's heavy with moisture. Using a knife, cut off a piece of foam about 4 inches thick, round the corners at one end and push it into your urn until it is snug. With the knife, starting at the top corners, shave downward on the foam block until you've formed a flat-topped cone. Next, with your scissors, cut several flower stems (at an angle) about 3 inches long. Poke the stems about an inch deep into the foam cone. Continue until the foam is totally covered with flowers and no foam is visible.

Which flowers, you ask? It depends on the colour you want. I have used white chrysanthemums, lime green mums, red gerberas (they look like small daisies,) and roses. Visit your local farmers market to see what is available. It's important to use the same flower for the whole tree, no mixing. And choose a flower with a strong stem. The trees should last for about a week. Tell your guests to check the foam daily and if it feels dry to gently pour water on top.

I write each guests name on white card, punch a hole in the corner, and tie it around the bottom of the urn with a pretty satin ribbon. The flower trees add a stunning look to the table and leave no need for a centrepiece.

On each friend's plate I leave another keepsake – homemade Christmas crackers filled with tiny gifts. Simply fill a cardboard toilet paper roll with small trinkets. I include fun holiday earrings, friendship bracelets, chocolates, tiny ornaments, refrigerator magnets, or any other little gift that will fit inside. Wrap the rolls with silver or gold metallic paper, leaving about 6 inches loose on both sides. Pinch the ends, and cinch the paper with a festive ribbon or wire. Decorate the front of the poppers with jewels and place one on each plate.

Now that your table is complete, how about the rest of the house? I try to stick with the holiday colours of red, green, yellow, gold and silver. Evergreen garlands are draped over the fireplace and doorways. An abundance of candles are lit around the house (and bathroom – it's nice to enter a restroom with the glow of candles.) I add fragrance to the house by simmering cinnamon sticks and cloves in a pot of apple cider on the stove. The entryway, bathroom, coffee table, and select corners are adorned with containers of poinsettias.

The kitchen is where I set up an appealing buffet. I put another cranberry coloured tablecloth on the kitchen table. Here, guests can help themselves to holiday punch, coffee, or champagne (with orange juice if they'd like.) On my kitchen counter I lay a silver linen tablecloth and scrunch it up to add a relaxed but dressed look, on which I put the plates of food. Lunch includes a cranberry and toasted almond green salad, chicken, (I try to change the kind every year) quiche, (again different each year) and homemade bread (it might be corn or banana or garlic or whatever).

After we've eaten at the table and talked for a while, I clear the plates and serve dessert. If it's cool out I'll serve hot chocolate. If not, more juice or champagne is in order. I put a variety of small desserts on a tray and ask each guest to help herself as I go around the table. The tray includes freshly baked biscuits, mince pies and cream filled brandy snaps. The conversation continues until we are all talked out and caught up with each other's lives.

Friendship needs to be nurtured and a holiday luncheon is a great way to thank your girlfriends for their companionship.


Related Categories
Back