Cruise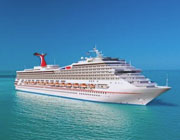 Sparky, my Jack Russel mix and I meet a lot of people at the dog park we visit three times a week. We've both made a lots of good friends. Last month, Sparky and I were invited to our first canine birthday party for Sparky's Lhasa Ahpso friend, Marky. We both were very excited!

Marky's owner, James, mailed invitations to all the guests. It was hand written in calligraphy on nice paper and both James' signature and Marky's paw print were at the bottom. The text of the invitation was very formal: "Sirs Marky and James Thompson request the pleasure of your presence at the celebration of Sir Markee's fifth birthday. The Good Ship Tailwind will depart from the marina promptly at noon on Sunday. Wear your Sunday best, and bring sunscreen, or a hat." Our Sunday best? Sparky and I had to go shopping.

Sparky and I bought Marky, a fluffy faux zebra hide pillow to lounge on then looked for something niced for Sparky to wear. He isn't the Tuxedo type so I went for a nice sailor suit in navy and white. I found a lovely summer dress and matching hat for myself at the mall.

That Sunday Sparky and I put on our new outfits and drove to the marina looking for the Tailwind. It wasn't hard to find, all we did was follow the red carpet that lead from the dock entrance and right up the gang plank.

The Tailwind was a seventy-five foot yacht, decorated with red and yellow ribbon bows and balloons All the guests and their dogs were dressed like they all lived in big houses out in the countryside. I felt like I was a member of an exclusive country clubs from a century ago. A photographer snapped a group photograph of everyone standing on the dock in front of the boat.

Sparky and I made out way onto the yacht while I chatted with some friends. A gentleman held out his hand to help me on board. He was wearing a dark blue blazer a white cap and white pants--he definately looked like the captain.

Once everyone was aboard the yacht left the dock and headed out into the bay. It was a lovely afternoon and everyone sat on the cozy deck chairs talking and watching the dogs playing in the cabin with eachother and a variety of toys.

Lunch was served in the dining room below deck. It was a delicious Champagne lunch, served by white jacketed waiters. The humans were served European green salad with little walnut pieces and wedges of mandarin orange with a sweet vinagrette dressing. Then, we tuna, chicken salad, or egg salad sandwiches. I chose egg salad and it was delicious. There was iced tea or lemonade to drink.

The dogs were served gourmet dog food with fancy dog biscuits for dessert. Even the dogs ate on fine china and drank out of crystal water bowls.

After lunch, Marky opened his presents (with James' help) and the dogs went back to the play room in the cabin while a five piece string orchestra played for us on deck. Everyone sipped sipped hot tea and snacked on scones until the ship returned to port.

Every guest was allowed their choice of one of the toys in the play room to take home as a favor, just like a human birthday party. Sparky and I really enjoyed our walk back down that red carpet when we left the yacht. Sparky and I had a wonderful time and he was so tired he slept practically the whole way home!
Related Categories
Back