Honeymoon in Belize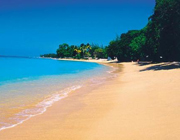 A beautiful, tropical vacation is often the choice of honeymooners world-wide. When my brother, Evan, got back from a honeymoon in Belize, he said it was the ideal place to spend a relaxing, sun-filled vacation with his new wife, Hannah. They were married in May and visited Belize just before its rainy season (June-August). The subtropical climate remained at around 80 degrees, which was perfect for always remaining scantily clad.

Evan and Hannah stayed in a wonderful resort in Southern Belize. One of the main reasons they chose Belize was for the barrier reef, the longest in the Western Hemisphere and second largest in the world. They are both avid divers- scuba and skin, and love the ocean and anything they can do in it. (It was their honeymoon, so of course they did that, and it wasn't the first time.)

Their first days were spent on the mainland where they reclined in hammocks, read on the beach, and went for a guided hike in the rainforest. They had never seen so many different species of birds and were amazed by the lush vegetation. They took a swim at a waterfall and then enjoyed a delicious picnic lunch.

They ventured to the "Blue Hole" one day. It was originally a cave but the roof fell some 10,000 years ago and the land receded into the sea. It is almost a perfectly circular hole, 1,000 feet in diameter and 412 feet deep. Evan had heard of it and wanted to visit this most famous dive site. It was a bit of a trip, but well worth it. They joined a small dive group and took the plunge. The marine life was amazing. They saw colorful fish, turtles, coral and underwater vegetation that invited you for a rest. Hannah had brought along an underwater camera and took lots of pictures to share with everyone back home.

Next, they spent four days at the resort's island location – an hour-long boat ride to the middle of Belize's largest marine protected area. Upon their arrival, they were greeted by friendly staff and checked into a cottage with a view of the reef. They were given an island orientation and then relaxed the rest of the day sitting on the dock and drinking the local favorite – rum and coconut water. The water beckoned them but they were tired from their previous dive (and because that dive was so deep they needed a day of rest to avoid the bends). They took a stroll on the beach and returned to the dock to watch the sun set, moon rise, and stars twinkle.

They enjoyed a guided snorkeling boat trip the next day. The water was warm and calm and the guide was a wealth of information regarding marine life. When they returned they continued to snorkel just off the beach. My brother can stay in the water for hours, swimming and exploring. Hannah wanted to work on her tan, so she retired to the sand and watched Evan from afar.

Two more days of swimming, snorkeling, hammocking and relaxing were enjoyed. They also got to try kayaking, which was a first for them. The evenings were enchanting. The best was an evening snorkel where they got to glimpse the underwater night life. They brought flashlights and were mesmerized by the nocturnal sea creatures. Another evening was spent around a bonfire. There was Belizean entertainment and a sing along. They stayed up until the wee hours of the night and then had some private fun on one of the hammocks. (Hannah shared this juicy information with me, not my brother.)

They returned to the mainland to enjoy a few more days of Belize. They found the people to be extremely friendly. And since Belize is the only English-speaking country in Central America, language was not an issue. They did hear some Spanish and other languages spoken, but were thankful they didn't have to brush up on their foreign language skills. Shopping was fun and Hannah bought several souvenirs to remember the trip.

One more scuba diving trip was on hand and they ventured to a marine reserve in the barrier reef. The reserve was a first of its kind in Central America with three distinctive zones for exploring. Dive operators' boats know the boundaries of the reserve so Evan and Hannah hired a guide and his boat for the day. Again, they were in awe of the reef, its sea grass and the other tropical vegetation. They enjoyed lunch on the boat under the warm sun and were able to get in three dives – one in each zone.

Their last day was spent lounging on the beach, drinking cocktails, and reminiscing about the incredible days they had had. The trip was everything they wanted their honeymoon to be and a vacation they will always treasure.

Related Categories
Back