Italy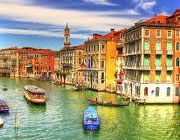 My cousin and best friend, Alex, has always been fascinated with Rome. Since the family could not afford to send her there for her eighteenth birthday we decided to bring a little of Italy to her.

The theme of the party was planned as a surprise, so we only told her the family was going to have a party, but nobody told her about the theme or that we were inviting all of her friends. I was in charge of calling everyone and telling them to come to Alex's Aunt June's house.

The easiest thing to do was to transform Aunt June's patio into an Italian cafe without spending too much money or time. First, my mum rented four round tables and white bistro-style wrought iron chairs. The tables were covered with red and white checkered table cloths covered with white square linens. Each table had a small crystal bud vase with a single red rose and a candle. The husband of one of her sisters brought over some plaster statues and columns to place around the edge of the patio. He said we could borrow them for the day.

I helped arrange the chairs and set the tables while the violin player, Aunt June hired, tuned his instrument. Aunt June's husband is an air brush artist and painted some backdrops on old sheets we taped between the plaster roman columns. He created a view of an Italian village on one side and the Italian countryside on the other. They were really nice. Once everything was ready, all we had to do was wait for the guests.

One by one the guests began arriving and everyone was really impressed with our work. Alex arrived last and was so surprised she could hardly speak. She was really surprised to see all her friends from school as well. Everyone greeted and hugged her and we all sat down at the tables. The violinist went over to her table and serenaded her making her turn bright red.

I helped Aunt June and Uncle Alf serve the Italian dinner. It was homemade spaghetti bolognaise topped with fresh parmesan cheese, pasta shells stuffed with ricotta cheese and spinach and garlic bread sticks. Everyone loved it, especially Alex. There was a delicious chocolate cannoli for dessert. Aunt June put a candle in Alex's portion and the violinist led us in an Italian version of Happy Birthday.

The tables were cleared away after dinner. Aunt June turned on the stereo and put in a CD of Italian dance music. Everyone started getting into the mood to dance especially when the tarantella started. I took some great photos of June dancing with Alf with a rose between her teeth. It was so funny!

Alex told everyone what a great time she had. Everyone stayed late talking and drinking coffee in our own little Italian cafe. Yesterday, Alex called me and told me next year she's going to Rome for her birthday for real, even if she has to charge it on her credit card. I hope I can go too.


Related Categories
Back