Let's Get Cooking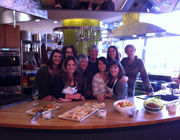 My friend Anita didn't want just an ordinary bridal shower, so myself and the other bridesmaids planned one we hoped she would enjoy. Anita loves to cook so we thought a Kitchen Shower would be a delicious way to make her day. We decided to elaborate on the theme with plans to cook at the shower. It was the yummiest party and one that no one will soon forget.

A friend of mine does calligraphy and I asked her to write the shower invitations on beige colored cloth napkins. Then we added a beaded napkin ring to each and mailed them in padded envelopes to invited guests. As the RSVP's came in, everyone commented on what a clever invitation it was and that they couldn't wait to join in the celebration. Anita was especially delighted.

One of the bridesmaid's offered her mother's home for the shower. She has a beautiful, expansive kitchen and there would be plenty of room for all of the guests. We hired a chef from a nearby cooking school to come in and do a cooking class for us. We would learn how to cook (I know what you're thinking, but some of us just like to expand on our skills) some new recipes and then sit and eat what we whipped up. Anita's favorite food is Mexican, so the menu was guacamole with chips, Enchiladas Tapatias, Red Snapper, Veracruz style, black bean soup, and sugared fritters. And of course we needed something to quench our thirst while we slaved away in the kitchen, so we served margaritas. Everyone received copies of the recipes to take home.

We decorated the kitchen with every day kitchen items filled with flowers. Each of us bought an object that could hold water – blender, coffeepot, teapot, cookie jar – and that Anita could take home. We added water and roses in different shades of red, to create eye-catching centerpieces we placed on the counter and tables. We also purchased tall round candles that we decorated with vegetables. We surrounded the sides of the candles with stalks of asparagus and green onion and held them in place by tying raffia ribbon around it. The candles stood a bit taller than the greens so that we could light them. We made lots of these and placed them all around the kitchen.

Rather than make traditional place cards, we decided guests could find a seat by looking for their chair. I bought inexpensive aprons at a discount store and asked my friend to calligraphy each person's name on the apron with a colored marker. Underneath the name she also wrote: Let's Get Cooking, Anita's Bridal Shower, and the date. We tied the apron to the back of each partygoer's chair and they had a place to sit as well as something to take home with them. It made the kitchen look warm and inviting.

Lastly, we put recipe cards on each chair and asked guests to write a "recipe of love" for the happy couple. It was a fun way to give good wishes, offer a little advice, and spout any words of wisdom. We put them together in a recipe box for Anita with lots of blank cards for future recipes.

When Anita arrived, she was thrilled with everything. She had received an invitation like everyone else, so knew it was a kitchen shower, but was surprised by all the details. We immediately began the cooking class when everyone had arrived, and enjoyed lively conversation, taste tests, and sips of margaritas while we cooked. The hired chef was prepared and explained the recipes in layman terms. We gathered in three small groups to carry out the recipes and took turns pouring, chopping, and stirring. We made Anita wear a paper chef's hat while we cooked and everyone put on their aprons. When we were finally done with every dish (it took a couple of hours so this is not a quick shower), we sat down for our fiesta and ate everything. The food was absolutely delicious.

We had one more surprise up our sleeve. The chef had made a tall chocolate cake for dessert and brought it out with sparklers on top. It lit up the kitchen and brought a huge smile to Anita's face. We all shouted congratulations and watched as the sticks burned out. The cake was sinfully good and we all decided we wouldn't be eating tomorrow. Anita opened her presents next, receiving everything she could possibly want for her kitchen. We each told her we would be waiting for our dinner invitations as soon as she was settled into married life.

Anita thanked everyone for making her bridal shower so special and unique and couldn't wait to "get cooking" with her new husband.
Related Categories
Back