Nancy Drew Party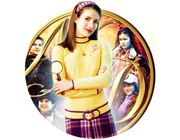 My best friend's daughter, Camden, is a huge fan of mysteries. She particularly loves to read the Nancy Drew and Agatha Christie books, her favourite movies are mysteries, and she hopes to one day be a writer of mystery novels. So when it came time to plan her Bat Mitzvah, my friend Robin knew immediately what theme she would use. She wanted Camden's input and together they decided a Nancy Drew Bat Mitzvah would be fun for everyone.

The religious commemoration took place on Saturday morning at the family's temple. Camden did a beautiful job reciting from the Torah. When the service was over, guests gave their congratulations and left. The celebration would be continuing that evening with the party at a local country club.

In preparation for the party Robin and Camden went all over town, to book shops, party shops and toy shops, and bought different murder mystery games. The idea was that guests would be invited to participate in – and even be a suspect in – a make-believe murder mystery. So that each partygoer would get to figure out "whodunit," Robin and Camden bought a game for each table at the party. The tables were for eight people, the same requirement for each game. The kids and adults were separate and there was some game duplication, but guests didn't know.

The games come with invitations that assign a character to a person. Robin included these with a more formal Bat Mitzvah invite, explaining that each guest should come to the party as their "character" (in dress and personality), for an evening of mystery solving.

The dining room of the country club was decorated beautifully. There were fifteen round tables set up around a small dance floor. On the floor was a square table covered with a white linen tablecloth. A tall vase with a large bouquet of flowers sat atop it and a microphone was available. In front of the table, on the floor, the outline of a body was drawn with white crafting tape. Each round table was also decorated with white linens, a tall (at least 36 inches, so guests could see across the table) vase with flowers that included roses, tulips and lilies. Toy magnifying glasses and weapons were scattered around the table. Robin photocopied the picture on each murder mystery game box and glued it to a piece of cardboard. Then she attached it to a metal stick and stood it on each table so guests could find their mystery. She also went to a photo shop and bought silver frames with a heavy triangular base, thick wire neck and coil at the top. She put a place card in each one with the guest's real name and character name. The frames were party favours. There was also one special item on each table – something to make it different from the others and that reflected the mystery to be played. For example, one of the games was a mystery that took place in Las Vegas, with characters ranging from a priest to a biker, so on this table Robin put a few toy slot machines.

Robin and Camden gave a lot of thought to table arrangements and hoped the right mix of people would make the "game" more fun. Also at each person's place was a copy of a script from the game so that everyone could read up on the mystery and characters. One person was selected at each table to be in charge and make sure the game was played properly and to facilitate its progress. It was great seeing so many different costumes and characters. Some guests really went all out, renting costumes that made it hard to recognise them.

On the walls of the room and wrapped around some chairs, was yellow crime scene tape. There were also enlarged copies of the front covers of Nancy Drew books and posters from movies like The Sixth Sense, taped all around the room.

When everyone had arrived, Robin and her husband went to the dance floor and using the microphone thanked everyone for coming. Camden joined them, thanking all the friends and family there and giving a special thank you to her parents. Then Robin explained how the evening would proceed, with everyone involved in a murder mystery.

It was so much fun! Tape recorders on each table set the scene for each murder and following a strict timetable, the games began. Guests were told that someone had been murdered and that the murderer was present at the table. The game was broken down into 6 rounds, with questions to ask each other to try and figure out who the murderer is. After the first two rounds, play stopped and appetizers were served. The food was provided by a catering service. Mini cheeseburgers, chicken kebabs, stuffed mushrooms and baked potatoes were served, along with a selection of beverages. Play resumed for two more rounds and then dinner was brought out. Fish and chicken, along with garlic mashed potatoes and peas (Camden's favourite), was served. Once everyone had finished, play began again and the final two rounds concluded with accusations being made.

At least one person at every table guessed the murderer correctly and they were given first pick from the decorations on the table to take home. Everyone couldn't stop talking about how much fun the party was and guests started to mingle with friends and family from other tables. Robin stood at the microphone again and congratulated everyone on a game well sleuthed. A huge cake in the shape of a question mark was wheeled out and cut and served. The adults stood around eating and talking and all of the kids had a good time discussing the mysteries and other teenage topics.

Camden was thrilled with her Bat Mitzvah party and Robin was thrilled her daughter was so happy. It was an unforgettable party, celebrated in perfect fashion for the guest of honour.


Related Categories
Back