New Year's Eve – 1950's Rock and Roll Party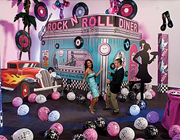 Shake, rattle and roll yourself into the New Year with a 1950's Rock and Roll Party. Transform your home into a diner or drive-in and roll up your sleeves for some good clean fun.

For invitations, make compact discs with songs from the 50's. (I know they didn't have cd's in the 50's but I don't think your guests will notice too much.) On the cd case, include a sleeve that state's your party theme: 'You're invited to a 1950's Rock and Roll New Year's Party! Open for details… Then make a disc label that serves as your party invitation. Be sure to tell guests to come dressed appropriately. You may give some suggestions – men in blue jeans, tight white shirts, black leather jackets. Women in poodle skirts, off-the-shoulder blouses, bobby socks and ponytails. Post the invitations in a padded envelope that you decorate with black musical notes.

On the night of the party, first and foremost, make sure you have a dance area. Pull back the rug and remove furniture for adequate space. If you don't have flooring in your home, rent a dance floor to go on top of carpet or other surface you might not want scuffed up. Decorate the walls with posters of Elvis Presley, Marilyn Monroe and James Dean, and if you can find them, old fashioned cars like a '57 Chevy. Streamers and balloons should be added in bright colours. Of course, be sure to have lots of bubble gum around for chewing.

Hire a DJ to play 50's music and get the guests involved in fun dance floor games. Make sure he plays the music of Buddy Holly, Chubby Checker, Fats Domino, the Beatles, Chuck Berry, Jerry and the Pacemakers and of course, Elvis Presley. Have a dance contest that includes dancing the Twist, Mashed Potato and the Stroll. Be sure to include some slow songs for cheek-to-cheek dancing. And how about organising some line dancing, mixing guests up to travel down the centre of the lines. An alternative to a disc jockey is to rent a jukebox and let the crowd select their own music, or if you really want to go the whole hog, rent a 1950's Rock 'n' Roll tribute band.

Don't forget to do the limbo! Swing those hula-hoops! Ask guests to twist and shout out their requests. Create some drama. Supply the disc jockey with the names of some of your guests and ask him to make up a story about the "popular couple." For example, maybe he could say he just saw Jane kissing John, while Jane's significant other was kissing someone else. Uh oh. And have packs of gum cigarettes lying around for anyone who wants to act "cool."

Aside from the dance floor, the kitchen or dining room (wherever you've decided to serve food) should rate as the place to be, and be seen. Follow a red-and-white theme with everything from the table linens to plates, cups, napkins, and of course straws. Solids, stripes and polka dots look great mixed and matched. Serve appropriate diner food like hamburgers, hot dogs, and French fries. A fun touch would be a server (waiter) dressed in diner attire, chewing gum and talking with a New York accent. She (or he) could help guests with their dinner selection and serve beers, shakes, and sodas.

Create a "photo booth" for guests to enter and pose for a picture. Take extra large boxes and cut them to create three walls. Use paint to decorate the outside and cut out black and white advertisements with people in them to glue to the outside like photographs. On the side that's open, hang a string of streamers thick enough to create privacy inside. Put two chairs inside for sitting. On the wall opposite the chairs, cut out a large whole that's eye level with the chairs. Have guests ring a bell when they enter the booth and then go over to take their picture with a Polaroid camera, looking through the hole in the wall. The photo can be glued to a larger piece of red poster board with the headline: The Sock Hop of 2004. Make sure guests don't forget this party favour when they leave.

It is New Year's Eve, so as midnight approaches, hand out party hats and crowns, noise makers and confetti poppers to throw as the clock strikes twelve. Everyone should gather on the dance floor for the final minutes before the New Year. Ask guests to share their resolutions with one another and hand out sparklers for everyone to light while waiting for the final stroke of midnight… Enjoy.



Related Categories
Back