New Year's Eve Fortune Telling Party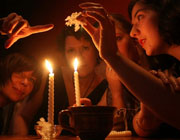 My husband and I usually stay home on New Year's Eve. We like to curl up by the fire and watch rented movies. But last year we ventured out to a friend's house for a New Year's Eve Fortune Telling Party. It was so much fun that we're thinking of hosting one at our house this year.

We received a party invitation in the post about a month before New Year's. It was a flyer with images of psychics, tarot cards, astrological symbols, stars, and celestial bodies. Its headline read, 'We predict good fortune for you in the new year!' The invitation forecasted fortune-telling and special surprises, and included a lottery ticket.

Guests were asked to dress like Gypsies. My husband and I went to a few charity shops and found some great out-of-fashion clothes. I wore a long paisley skirt, loose blouse, big hoop earrings and a scarf around my neck. My husband wore a loose white button downed shirt only partially tucked into his jeans, beat up brown leather boots and a bandanna around his head.

When we arrived at the party we were immediately impressed by the decorations. On the front door was a sign that read " Psychic Readings Inside." The porch light bulb had been replaced with a red light. Inside, lots of large and small pillows and cushions were scattered around the floor in every room. Oriental rugs had been put throughout the house and each room was illuminated only by candlelight. The furniture and tables were covered with bright purple, orange, red and green table cloths. On the tables were fake coins and chain necklaces. Tarot cards were spread around the coffee tables. The walls were decorated with zodiac posters and playing cards. 60's-style beaded door hangings were hung in every doorway.

The house was divided into sections for activities. This assured the hosts that not everyone would congregate in one area. In the corner of the living room was a skirted round table with a "crystal ball." An elderly gypsy woman sat beside the table offering her fortune telling services. She would gaze into the crystal ball and forecast your future.She took our palms into hers, traced the lines of our hands with her finger and then made a few predictions. When she was through, she handed us each a fortune cookie. Of course, only good fortune was disclosed so it was fun.

In another area of the house were lots of pillows surrounding a low table. On the table was a Ouija board, tarot cards, rune stones and books on palm reading, numerology and tarot reading for guests to refer to and try on one another. My husband and I really enjoyed laying back and listening to others tap into their forecasting abilities. There were lots of laughs and this was a good area to meet new people and have something to talk about.

A hired fortune-teller sat at a skirted round table in the kitchen and gave horoscopes based on numerology. She sat with a deck of cards, face down, and asked guests to pick three cards at random. After they made their selection, she added up their values and foretold their meaning. She had a chart with a list of numbers from 3 to 30. Next to each number was a fortune. For example, if your cards totaled 10, your fortune read: A happy week is ahead of you.

In the family room there was a poker table and dealer for guests to indulge in a little friendly wagering and card playing. Guests had to buy in for ten dollars to receive chips and could sit and play for as long as they liked (or until they lost all their money). A friend of ours was the big winner of the night, winning thirty-two dollars.

A three piece authentic gypsy folk band entertained us all evening with some beautiful melodies on violin, guitar and flute.

There was a wonderful buffet set up in the dining room. Silver stars dangled down from the chandelier over the dining table and lots of confetti stars adorned the table. We ate on black paper plates, used bright purple paper napkins and red plastic silverware. There was a delicious selection of homemade meatballs, pesto pasta, salads, chicken dumplings and vegetables . In addition to the buffet, flavourful nibbles, such as bread sticks, cheese and crackers, grapes, nuts and dried fruits had been placed in baskets all around the house. Dessert included chocolate dipped fortune cookies and chocolate soufflé.

When it came time to yell Happy New Year, everyone shouted with joy and felt this party was the beginning of a great new year. The vibe was positive, our futures sure to be full of fun, and predictions for the next year bright.


Related Categories
Back