Silent Movies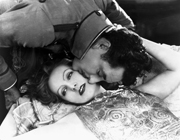 After going out together for over five years, I finally proposed to Connie, my girlfriend. She said yes, but we both wanted to break the news to our parents in a unique way, especially since they had been bugging us about getting married since we moved in together three years ago. We invited some of family and friends to dinner, but didn't tell them what the occasion was.

We knew of a restaurant that has dinner theatre every Tuesday and Saturday. We made reservations for Sunday and arranged to use the stage. Connie and I enlisted the help of Mark, her ex-boyfriend, who is a good friend of hers, and my friends Ray and Julie. Ray acts in the community theatre, and Julie plays piano pretty well.

There were 17 people in our party, so the restaurant offered selections from a limited menu for a lower price. The choices were baked fish, chicken Florentine, fillet mignon, or cheese ravioli. Our table was also set up right in front of the stage.

Dinner was very enjoyable and Connie took some pictures of the group. No one suspected anything. Half way through dinner Connie excused herself so she could go to get changed into her costume. The manager came out and announced that a special show was about to start and I excused myself, saying I would go get Connie. Julie walked over to the piano and started to play some ragtime music as soon as I left.

Ray had brought along some theatre props from the melodrama the community theatre had done a while ago. A set of fake railway tracks were laid across the stage. He put the dialog cards, he had painted on poster board, on an easel so our play would look more like a silent movie. Ray's job was to reveal the dialog cards with the right scene. We had only rehearsed it once, but it went pretty smoothly.

When the lights came up, Mark appeared carrying Connie over his shoulder. She was wearing a white Victorian dress and his costume was a stereotypical melodrama villain, complete with curly mustache and stovepipe hat. He pantomimed a wicked laugh and Ron revealed the card with "Mooah-ha-ha!!!" painted on it. Next he tied Connie to the railway tracks while Connie pantomimed her lines and Ray revealed another card. "Who will save me ? Who will be my hero?" By now, everyone was laughing like crazy. This was my cue and I came out dressed like a Canadian Mountie. Everyone laughed even harder especially when I held up my finger and pantomimed by lines, "Unhand her you dirty weasel! Never fear, my dear, I will save you!" After I rescued Connie, I pulled an engagement ring out of my pocket and Ray revealed the card that said, "Will you marry me?"

After that he revealed the card with Connie's answer: "Yes!"

The videographer we hired caught the first performance on tape, but Ray wanted to do another version so we turned it into a bit of a farce of it the second time around, with Connie's ex-boyfriend winning and running off with the piano player and Ray getting the girl. We all were a little silly from all the wine we had drunk at dinner. The audience went wild for the second version, laughing and clapping at the end while we all took a bow.

Our parents surprised us by refusing to allow us to pay for dinner. It was an extra special night. A few weeks later everyone received a copy of the tape from the videographer. It had been edited to look like an old, black and white silent movie.


Related Categories
Back