Superheroes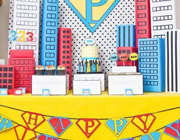 I wanted a special theme for my son Bobby's fifth birthday party and something he would remember. I quickly decided the theme should be something he loves: Superheroes. It would be a blast having ten five-year-old superheroes running around the house trying to save the world.

The first thing I did was make the invitations from a picture of Bobby in his favourite Superhero costume, Aquaman. I pasted the colour copy on the front of the card. Inside I wrote the party details: Location, date and time and that the guests should dress as their favourite Superhero.

Bobby woke up at 7:00AM the day of the party dressed as Aquaman. He was so hyper I'm surprised he stayed awake until 12.00. While he was running around the house I decorated it with red, white and blue balloons, superhero themed crepe paper and birthday banners.

It wasn't until the guests started arriving that I was beginning to realise I might be the only adult, but three of the mums stayed to help supervise the kids. They were a tremendous help. We had a Batman, two Supermen, Robin, Spiderman and even a Wonder Woman.

Since the kids were getting a little rowdy playing-out their characters we took them to the back garden. The duplicate Supermen pretended to be clones, one evil, one good. It was so funny. A videographer caught everything, but I also took photos. When the kids started getting hungry we all went inside for lunch.

The dining room table was covered by a paper superheroes themed tablecloth with matching napkins, plates and cups. The party shop had so many different themed party boxes with superheroes it was hard to choose until I noticed there was only one with Aquaman on it. Lunch was hot dogs with everything and French fries. The kids loved everything, except Bobby who doesn't like relish. The mums enjoyed the salad I made with cucumbers, avocado, tomatoes, feta cheese with an olive oil and balsamic vinegar dressing. I also opened a bottle of wine for the mums.

After lunch the hired entertainment arrived. I had contacted an enterainment agency that provides entertainers specifically for kids theme parties. The entertainer they sent was brilliant. He kept the kids completely amused and engrossed with princess and superhero games, exciting and imaginative props, and music and magic tricks. Me and the other mums sat back for a well deserved rest.

After the entertainment it was time to bring out the cake I had ordered from the local bakery. It was designed like a city with buildings and streets and with plastic superhero figures standing in it. "Happy Birthday Bobby" was written in light blue icing. The kids also really liked the blue bubble gum ice-cream I served with it…happy kids. We all sang Happy Birthday and Bobby blew out the candles with a huge grin on his face.

The kids went back outside and played until it was time to go home. Yawning, Bobby handed out party bags to all his superhero friends. I've never seen him actually want to go to bed or sleep as soundly as he did that night.


Related Categories
Back