Train Ride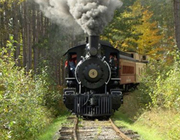 Like many small babies, the best way to get our 5 week old son Daniel to sleep is to strap him in his car seat and take a little drive in the car. It's a motion thing. So for Daniel's Briss we planned the celebration to take place, not in a car, but on board a train.

I sent out invitations shaped like a steam train. In all, there would be twenty adults and about five other children on board. Close to where we live in Northern Ireland there is a fantastic heritage railway. One of the services they offer is the hire of the buffet car for celebrating birthday parties, hen nights and corporate events – so why not a briss.

We met on the station platform on a glorious sunny spring morning. The train pulled away from the platform, and soon we were chugging through the beautiful local countryside. A delicious lunch, accompanied by wine and champagne was served in the buffet car. My best friend Jill surprised us by producing a special cake she had ordered for the occasion in the shape (of course) of a train. We enjoyed talking to friends and family members we have not seen for some time, and everyone agreed that a train venue for a briss was a great idea.

The briss event itself would be held at one of the stations. We disembarked from the train and gathered in what was an old Victorian passenger waiting room. The rabbi recited the blessing and performed the circumcision. Daniel, of course was not pleased by this part of the proceedings so I walked with him a little to try to calm him. The other guests took the time to walk a little too, admiring some of the features of the period station and looking at some of the authentic vintage rolling stock.

An hour or so later we got back on board the train for the journey home. Daniel, true to style, fell asleep again as soon as the train was underway. We took some photographs of him sleeping and some of our friends and relatives gave us gifts for Daniel, including a train mobile to hang over his crib. With Daniel sound asleep to the rocking of the train, my husband David and I had an opportunity to sit back with a coffee and enjoy the return ride and scenery. I hadn't been on a train in years and I'd forgotten what a relaxing way it is to travel.

Related Categories
Back