Movie Set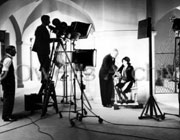 I had expected my school reunion would involve sitting around a banquet hall talking to old friends and hearing music I hadn't heard in ten years, but I was wrong.

Several months before the reunion, I received a letter in the post from an event coordinator by the name of Julie who specialises in school reunions. Inside was a questionnaire asking about what I'd been doing since leaving school ? what I did for a living, if I was married, how many kids I had , if there had been any dramatic changes in my life, and if I had any news about what any of my class mates had been up to ? The instructions said to complete the questionnaire and send it back within a month.

No one knew what purpose the information was put to until the actual day of the reunion. A block of rooms was reserved at the same hotel for alumni like me, who had long since left the city we had grown up in. The reunion was being held in the banquet hall of the same hotel. About fifteen minutes before the reunion was supposed to start, several young people in their early twenties, wearing jeans, T-shirts and "Crew" baseball caps, knocked on our doors and announced, "You're needed on set in fifteen minutes." They waited until we came out of our rooms and escorted everyone down to the banquet hall. On the way, they handed us booklets that looked like scripts. "Brampton Comprehensive School's Tenth reunion" was printed on the cover. By this time we were all rather perplexed….

Everyone was very surprised to find that the banquet hall had been transformed into a movie studio. There were cameras and lights, backdrops, facades and various props and a scene of slight chaos as people moved objects and props from place to place and shouted instructions. It was at this point that we found out the questionnaires had been turned over to a couple of writers who used the information from every alumni to create a five minute scene. We were assembled as a group and one of the production assistants explained what was going to happen, the order of filming etc.

A Production Coordinator directed his assistants as to who needed costumes and which scenes would be filmed first. A makeup artist applied make-up before every five minute scene was shot. The Director wandered around, talking to us just before it was our turn in front of the camera, explaining how we should speak, act and generally conduct ourselves. The surprise nature of the party theme meant that we had little time to feel nervous or suffer stage fright. Some scenes related to peoples jobs. Like the fifteen minute court room drama for Pamela, Greg and Andrew who are all solicitors, or the ten minute documentary on the search for extraterrestrials starring Amanda and Curtis who are both police officers. Several of the scenes took some time to shoot, especially when someone got the giggles, forgot their lines or messed them up. Most of us had arrived with cameras and took lots of hilarious photos of the action.

One scene involved the entire class. We watched a slide show of pictures taken at our leaving party. We didn't know it at the time, but the director had the cameras rolling while we pointed, laughed and reminisced about our school days.

After the fun of the shoot we were all quite ravenous. A buffet style meal of barbecued ribs, chicken, baked potatoes, mixed vegetables and caeser salad was served and we all sat together, drank a fair amount of wine, and chatted about our current lives and recalled amusing stories from our school days.

Several weeks later, I received a video tape of the "movie" and found out there was a story tying all of the scenes together. I noticed there was some candid footage added in as well. The end product was very professional and an excellent way to remember the reunion. The credits listed all of the alumni who attended as well as their contact information so everyone could stay in touch. My favourite part of the tape was the out takes. I thought the movie was the perfect way to make a milestone event even more memorable! I wrote a letter thanking Julie and the rest of the planning committee for all the hard work that must have gone into making the reunion so original and enjoyable.






Related Categories
Back