Musicals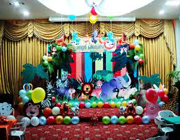 Sixty is a big milestone birthday, so I wanted to make my wife think as little about her age as possible. I decided the best way to do that was by throwing her a theme party. Samantha loves watching musicals so I decided that would be the theme.

I found invitations with African drawings on them, which were a lot like the ones on the poster for the "Lion King Musical" that we saw in New York. I sent them to family members and her ten closest friends.

My daughter Josie helped me with the decorations. We put up five African paper masks we found at a party shop. We made a puppet stage out of cardboard and poster board like the one in "Sound of Music" for Josie's marionettes. I had a lot of fun making the stage as I hardly do anything creative lately. We hung posters we found at a party shop on the walls. There were ones from "Chitty, Chitty, Bang, Bang", "The Sound of Music", "The Wizard of Oz", "My Fair Lady", and "Little Shop of Horrors".

We put in the extra leaf of our table to make sure it was big enough for the buffet and covered it with an African print tablecloth. Josie and I made a centrepiece out of post card stills from musicals that we bought at a music shop. We pasted them together and cut out flower shapes and arranged them like a bouquet in a crystal vase.

Samantha was extremely surprised and excited when she saw what we had created at home. She started singing along to the CD of "The Sound of Music" playing on the stereo and I took a picture of her twirling around like Julie Andrews.

Josie made us all laugh with the puppet show she put on for us. She tried to do the 'Lonely goatherd' number from "The Sound of Music" and although she didn't have enough puppets she did a good job improvising.

Josie and I put out the buffet. There was beef casserole or salmon in cream and garlic sauce with scalloped or baked potatoes and asparagus or fried green beans in mushroom sauce. Josie cooked all the food, but I helped by cutting the meat, potatoes asparagus and green beans. It was superb meal.

After the meal Josie brought out a cake decorated to look like the one from "Willy Wonka and the Chocolate Factory". The bakery did a terrific job putting all kinds of sweets on the top, from bite-size gobstoppers to M & M's. "Have a musical birthday", was written in the middle.

Once we were all stuffed, everyone watched Samantha's favourite musical, "The Sound of Music". Somewhere in the middle of the movie, Samantha squeezed my hand and kissed my cheek as a way to say, "Thank-You from the bottom of my heart".


Related Categories
Back